Voices For Children Foundation Raises $230,0000 at the 27th Annual Be A Voice Luncheon
Over 500 citizen superheroes gathered at the Loews Coral Gables to fund advocacy, experiences and basic necessities for children in foster care.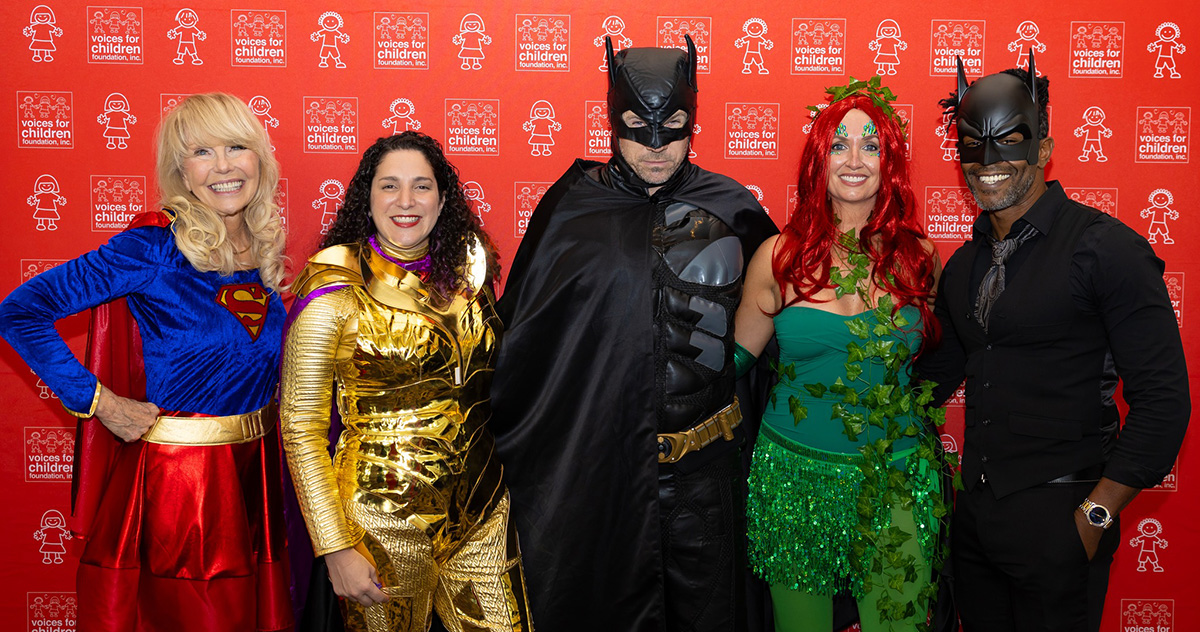 MIAMI-DADE COUNTY – Oct. 3, 2023 – Voices For Children Foundation (VFC) hosted its 27th Annual Be A Voice Luncheon at the Loews Coral Gables on Friday, Oct. 6 with support from the presenting sponsor, Stearns Weaver Miller. This year's signature fundraiser saw historic attendance and raised over $230,000 to fund the gap in state funding for the Guardian ad Litem program in addition to VFC's programmatic initiatives which serve as the safety net for children in foster care. There are currently more than 1,600 children in foster care in Miami-Dade County.
The luncheon followed a superhero theme uniting the champions in the community, dressed up in capes and suits to fundraise and benefit VFC. During the event, attendees pledged donations and participated in a raffle for luxurious prizes and experiences while learning about the organization's mission and efforts to provide children with the resources and experiences they deserve to step into a brighter future. "I am honored to continue the fight to protect our community's most vulnerable members alongside the superheroes that have united to support our children and youth in foster care." said VFC President and CEO Kadie Black. "Thanks to the generosity of our donors and sponsors, we can continue the critical work to advocate and provide access to essential needs and positive experiences for our youth." Among the afternoon's special moments was a video showcasing the transformative journey that 19 youth and VFC staff embarked on in July to the Dominican Republic on a B.L.U.E. Missions trip. During their trip, the team collaborated to build ventilated-improved pit latrines that provided families with sustainable, safe, private and sanitary access to bathrooms.
For the past 27 years, over 450 attorneys, judges, elected officials, and community leaders have gathered annually to support VFC's efforts to fund court representation through the Guardian Ad Litem program which advocates for their rights, needs and permanency. VFC funding provides children in foster care with basic needs including hygiene items, school supplies and clothing as well as exposure to life skills and unique experiences which not only boost their self-esteem but allows them to dream beyond their circumstances. To continue to stay engaged and committed to VFC's mission, individuals can find out more about how they can donate or contribute here.
About Voices For Children Foundation
Voices For Children Foundation, Inc. is a beacon of hope for abused, abandoned and neglected children and youth in the Miami-Dade County foster care system. We do this by providing critical support for advocacy, essential needs and positive experiences. VFC's support enables the Guardian ad Litem (GAL) Program to safeguard the best interest of children in foster care in dependency court proceedings. This is the only program that provides this type of caring and objective voice in court. VFCs' financial support also helps support the over 1600 children in foster care in Miami Dade County with medical, educational, and social needs. For more information, please visit www.BeAVoice.org.