Make a Difference for a Child
Voices for Children provides stability, safety, and a feeling of home for children in foster care by ensuring that each child has a caring and consistent person to represent them in court. That person could be you. Become a guardian ad litem today—be the person who makes all the difference.
652 Active Guardian
Ad Litem volunteers
Over 45,000 children
impacted since 1984
Over 1,931 children
served in 2021-2022
Over 55
human trafficking victims supported
Our Mission
Voices For Children is a beacon of hope for abused, abandoned and neglected children and youth in the Miami-Dade County foster care system. We do this by providing critical support for advocacy, essential needs and positive experiences. To stay up to date with our work, sign up below.  Learn More.
What We Do
We fund the Guardian Ad Litem program to provide critical support for advocacy and meet children's basic needs, dignity items and experiences.  Learn More.
Get the Latest Updates from Voices
Be A Voice Gala
Jan. 6, 2024 - 7 p.m.
Mandarin Oriental Miami
Join over 500 community members all committed to the Voices' Misson. This gala will celebrate "The Magic of Partnerships," underscoring the importance of coalescing the community to protect children in the foster care system in Miami-Dade County that have experienced abuse, neglect and abandonment.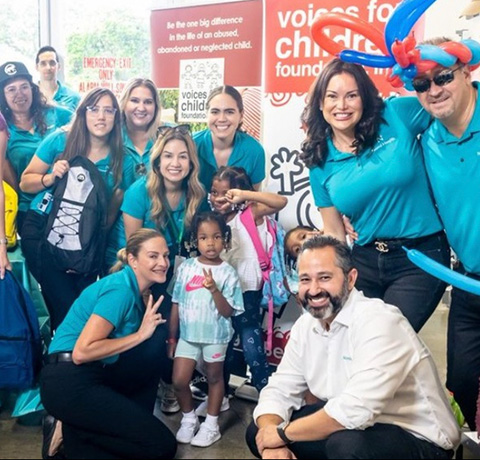 Events
Support Our Mission
We frequently host events that serve as the primary fundraising mechanism for advancing our mission of serving as the safety net for Miami-Dade's 1,500 children in foster care. We'd love to see you at one.
Opportunity
Join Our Team!
We are dedicated to upholding a positive work environment filled with passionate advocates who love working with children and are committed to ending the cycle of abuse in foster care in Miami-Dade County. Check out our current job openings and find your rewarding career opportunity today!
Become a Guardian
The Guardians ad Litem (GAL) Program was established in 1980 to minimize trauma and maximize children's normalcy while in foster care. GALs undergo extensive training and background checks to serve as a child's protector and advocate. You can become one—we'll show you how.